☀️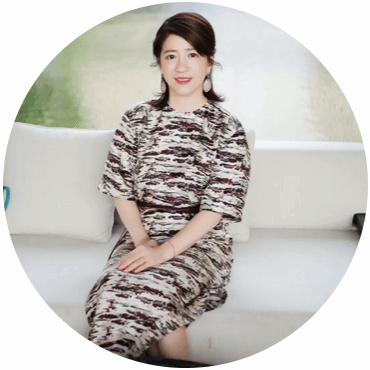 Unice Zeng
Unice Zeng is chairwoman of BELLO—Aoli Fashion Limited and the founder of the Unice Foundation, which is dedicated to helping poor children and disadvantaged women. She is a parent of YCIS Shanghai Puxi Campus and a mother of four children.
In 1994, Unice, who had recently graduated from Fuzhou University, decided to start a business. She plunged into clothing, wholesale and retail. Given her business acumen and courage, she soon opened more than a dozen retail stores in Fujian, Jiangsu, Zhejiang and Shanghai.
In 2000, building on her retail track record, she founded Fanqi International, which became the most influential international brand agency in Fujian at that time. In 2007, she began to engage with various designers and artists, and launched several life aesthetics stores in the country.
Behind her seemingly smooth progress, her journey has been full of challenges. Yet, Unice seldom had any 'hesitation or fear'. She knows where her responsibilities lie. She has made clear choices at every intersection.
In 2005, at the peak of her career, Unice began to make donations in her own name to poor children in Jiangxi, Gansu, Yunnan and other places each year until their graduation from high school. In 2017, Unice Foundation was established in Shanghai. Since then, philanthropy has become one of the most important drivers in her life.
She turned her focus on women's and girls' education into tangible action. Last year, the Unice Foundation cooperated with the Shanghai Children's Fund to launch the 'PinkGirl Adolescent Girls Care Project'. They visited rural areas in Yunnan, Qinghai, Xinjiang, and Fujian to help rural girls understand their own bodies, reject menstrual shame, and grow with health, freedom and confidence.
Unice deeply understands woman power. She is creating more choices for women through her own boundless energy.
Here is our conversation with her.
After graduating from university, you started your own wholesale clothing business. You became an agent for domestic and international designer brands (as well as sports labels) and then went on to create your own lines. Have you always been clear about what you wanted to do?
I grew up in a traditional family, but I was quite rebellious as a child. After graduating from college, I didn't follow my parents' idea of a stable job. I've always been interested in fashion, so I decided to try it out myself.
It was 1994 when I first started my business. At that time, China was going through a period of rapid development. Meanwhile, there was no successful experience for reference, so I had to find my way completely on my own.
Interest was just a starting point. It took resilience and sensitivity to establish a long-term career. You need to learn to take on various responsibilities and risks. For example, every time you innovate, you are challenging the customers' perception of you. To win their trust, you need to constantly improve quality.
In 2017, you launched the Unice Foundation. Where did your interest in public welfare originate?
In 2017, motivated by the prospect of long-term involvement in public welfare as well as the birth of my daughter, I officially launched the Unice Foundation. Initially we planned to do two things: first, to help poor children with burns and scalds and, second, to help teenage mothers.
The focus on teenage mothers began two years earlier. At that time, we got in touch with a reporter who privately funded unmarried mothers. We talked about whether we could provide more systematic support through non-profit organisations.
The project was not implemented due to some resistance. But it reminded me of another problem facing adolescent women: menstrual shame. In many poverty-stricken areas, girls usually fail to develop good hygiene because of "menstrual shame". This is due to poverty, being left-behind by parents, and a lack of physical hygiene education.
During the period 2019 to 2020, we set up the "Yi Rui Project" in Xianyou County, Fujian Province, and cooperated with local schools to fund hygiene products for impoverished girls. This was to help them develop good physical hygiene habits, and to establish a sense of self-protection.
In 2021, we began to expand our network and cooperated with women's federations, schools and other institutions in Yunnan, Qinghai, Xinjiang and Fujian to launch the "PinkGirl Adolescent Girls Care Project". We distributed 'adolescent care packs' to girls from primary and secondary schools in remote areas. The care package included not only sanitary pads, but also a women's health booklet that we put together especially for them.
Do you think the lives of girls have changed since then?
In the past, the topic of menstruation could only be whispered among the girls. Now, the schools have officially introduced this as a topic for education. You can see the girls becoming more confident and optimistic.
We are considering working with mental health centres to introduce the subject of physical hygiene in the classroom. This gives the girls greater support both physically and psychologically.
What expectations do you have for your work? What impact do you expect it to have on women?
In 2019, I launched the Zeng Yirong Scholarship Program at my alma mater, Fuzhou University. In the selection of applicants, we will focus on females to create more opportunities for women.
We are also considering providing support for women's career planning. From adolescence, college, to the workplace, women face different issues at each stage of life. If we want to see them make independent life choices, there should be enough options available to them.
I hope all women can have their own personalities and ideas. I also hope what I do can empower more women, inspire them to love themselves more in every stage of their lives and, if possible, influence more people.
How do you see 'female power' today? In your opinion, what qualities should a truly powerful woman possess?
I have always presented a relatively tough image at the workplace. After becoming a mother, I started to realise that social status does not equate to power. To "moisten things silently like the spring rain" is also a manifestation of women's power in a family.
When I would have a serious talk with my daughter about study problems, she would say, "Mum, can you give me a hug? Can you talk to me gently?" She makes me realise that I'm not just a strong woman. I can also be a gentle mother.